Team Panoramics available now!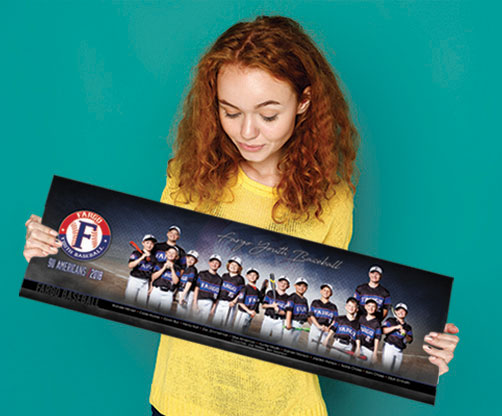 CHECK OUT YOUR TEAM PANO HERE!
On Sale Now
For a limited time we are offering team panos to Fargo Youth Baseball customers for only $28!  Normally $35-$42, you should order yours soon to save BIG!
Only two options are available for shipping, USPS to the house or just swing by our studio to pick it up.  Make sure not to choose "deliver with team" since all the team deliveries are finished for the season.
Green Screen
If you were paying attention to how we shot the team photos this year, you noticed something very different.  All the team photos were shot in two groups against a green screen.
While the other companies use this technology to make it easier on them, we use green screen or photo-key technology to make a much better product for you.  One of those great products is this Team Panoramic poster print!
Perfectly Sized
The Team Panoramic is perfectly sized at 11.75×36 inches.  It's a big print that's nice enough to frame, but it won't cost an arm and a leg to do it.  This size frame is readily available at Michaels, Hobby Lobby and Walmart.com.
But if framing isn't for you, it's a great poster that can be pinned to the wall for a perfect addition to any kid's room!
Team Banner
If you love this print for your wall, then your team should hang it on their dugout at games!  We can print a 2x6ft banner just for your team!
Any questions?  Call us here at the office 218-512-0373, or click the CONTACT US link above.  -BOT
ORDER YOUR TEAM PANO TODAY!
Other Info:
No forms to bring to photo day!
Use your credit or debit card in our secure shopping cart.
If you place your order before your photo day, we'll deliver everything with the rest of your team by default.
Need to order after? Go ahead, and choose to pickup your order here at the studio, or we can ship it right to your doorstep.
When ordering on-line, please place your order 24 hours prior to photo day so we can have your player's paperwork ready.
We accept cash, check, credit or debit card at the photo day shoot.
Please, USE YOUR ORDER ENVELOPE, fill it out, insert payment and send it with your player.  We do spend considerable time and energy making sure that every player gets an envelope.  Thanks!
But if you don't have an envelope, and don't feel comfortable ordering online, you can always download our PRINTABLE PDF version. Paperclip your check to this form on photo day and you'll be all set!
Although we'd love for every player to attend their scheduled photo time, we know conflicts come up.  To accommodate, we have a few options for you to consider:
First, let us know that your player will not be able to attend and we can list them on the roster as " Not pictured".  And, we can schedule their individual photo on a different photo day or time.
Second, if you are looking for something more, we offer a "Digital Insert" package for a reasonable fee ($50 – includes Package B regularly $36). We can insert your player into the team photo.
The quality is exceptional, but we must know about this special request prior to taking the team photo. Call our studio for more information at 218-512-0373.