ORDER DEADLINE is Thursday, May 20th
Order before the deadline – your photos will be delivered for free with your group.
Order after the deadline – please choose pickup at BOT studio or have your order shipped for a fee.
Tuesday, May 18th – all competition kids only
Tue 5/18 at 4:30 PM
Can Can
Tue 5/18 at 4:45 PM
Rescue Me
Tue 5/18 at 4:55 PM
Solos/Friends/Etc.
Tue 5/18 at 5:10 PM
Don't Rain on My Parade
Tue 5/18 at 5:25 PM
Ring them Bells
Tue 5/18 at 5:40 PM
Diamonds
Tue 5/18 at 5:55 PM
Awake at Night
Tue 5/18 at 6:05 PM
I Will Follow
Tue 5/18 at 6:15 PM
Solos/Friends/Etc.
Tue 5/18 at 6:30 PM
Blackbird
Tue 5/18 at 6:45 PM
Big Time
Tue 5/18 at 7:00 PM
I'll Meet You There
Tue 5/18 at 7:15 PM
Team Pano for Hit Me With Your Best Shot
Tue 5/18 at 7:30 PM
Team Pano for Tie Me Down
Tue 5/18 at 7:50 PM
Team Pano for Numb
Wednesday, May 19th – all recreational kids only
Wed 5/19 at 4:10 PM
Rec 4 Class – "Tea Party" (pink costume)
Wed 5/19 at 4:20 PM
Rec 5 Class – "Call Me"  (black and white Leo)
Wed 5/19 at 4:30 PM
Bonus B Class – "Talking to the Moon"
Wed 5/19 at 4:40 PM
Bonus C Class – (lyrical costume)
Wed 5/19 at 4:50 PM
Rec 2 Class – "Greased Lightning" (red and black costume)
Wed 5/19 at 5:00 PM
Rec 3 Class – "Conga"  (red and black costume)
Wed 5/19 at 5:10 PM
Wednesday Rec 1 class – "Music Box Dancer" (cream lace with tu-tu)
Wed 5/19 at 5:25 PM
Thursday Rec 1 class – "Ice Cream Freeze" (pink costume they're getting this Thursday in class)
Wed 5/19 at 5:40 PM
Bonus B – "Ever After" (red costume)
Wed 5/19 at 5:50 PM
Preschool Class – "Minnie's Boutique" (pink and blue costume)
Wed 5/19 at 6:05 PM
5/6 yr old class – "Fly With Me" (blue costume)
At the Shoot
Social Distancing will be required.  Athletes should join the line with their group – wearing masks.
Arrive 10 minutes prior to your scheduled photo time.
Please have your athlete dressed and ready for photos with their full uniform.
Please have your athlete in attendance regardless whether you're ordering or not.  We'd love a photo of each athlete and coach to create a complete group photo for this season!
Our preference is contact-less online ordering.  Use the link above to place your photo order securely with a credit or debit card.  If you would prefer to pay by check, download the printable form and place your form and check in an envelope.  Print your athlete's name and team on the outside.
Sibling Photos
Sibling photos will be packaged and delivered with the oldest athlete.
When placing your sibling order, list the group/team for each sibling, as well as how you would like their names shown.
If there is a sibling not playing this sport but you would like them in the photo (.i.e., gymnastics sister) then we will take their photo alongside your player.  Talk to a BOT staff member for more information.
Make-Up Times
Can't make your assigned team time?  Please contact Best of Times and we will schedule an alternate time here at our studio in Moorhead.  But if at all possible though, please use the scheduled time for your group.
If your athlete is quarantining for COVID exposure, we totally understand your situation and would like to provide you with a simple reschedule date when you are ready.  Please contact us right away so we know to leave a space for your player in the group photo.
There is no additional charges for either of these services.  Thanks!  BOT
Photo Delivery
By default, your photos will be delivered through your coach or team manager.  They will be notified when to pickup and distribute by the club.
Although when ordering on-line, you have three options:  Deliver with Team, Ship by USPS (shipping fees will apply) or Pick-Up for free at the BOT Studio.
After the photos are distributed by your coach, only Ship by USPS and Pick-Up will be available options for late orders.
Every year we redesign our templates to look even better than years before.  Check out our new designs for 2021!  They look great and allow for flexibility and social distancing.  Two photos will be taken of each player, one for their standard pose and one for the team photo.

Your team photo will look even better this season!  And BOT doesn't have to take a group photo to create a great team photo.  We are very proud of these new designs and we're sure you'll love the results!  Look at these two great examples…
Social Distancing – markers will be in place to keep each athlete in line 6-feet apart.

NO SHARING of bats, jerseys, gloves, hats, balls etc.  Please have your athlete bring their own equipment for their individual photo.

No contact photo – we will only give your child verbal instructions on adjusting their jersey, hat, etc.

Modified Team Photo – Athletes will be photographed individually, and we will be create an great team photo from the shots.

Be Prepared – please have your child prepared for their photo – uniform on, jersey tucked, gloves and stick in hand.

Pre-Order – Please have your child's photo order completed before photo day, this will cut-down on the number of people in the building.
TEAM SPIRIT PRODUCTS
Show your team spirit at your next game or event!
Flat Heads
Banners
Posters
FLAT HEADS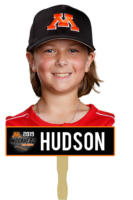 Our flat heads are a crowd pleaser at any game or event!
Have your team manger or coach take the lead on ordering our spirit pack items.  Minimum order of five per team. 
Call our office for more details 218-512-0373