Are you ready for some great youth football at the FargoDome?  Rock the Dome 2018 is here, and we can't wait to be a part of the show! Best of Times will be selling event t-shirts and shooting team panoramics again right down from concessions. And like last year PRE-ORDER your shirts!

PRE-ORDER SHIRTS ONLINE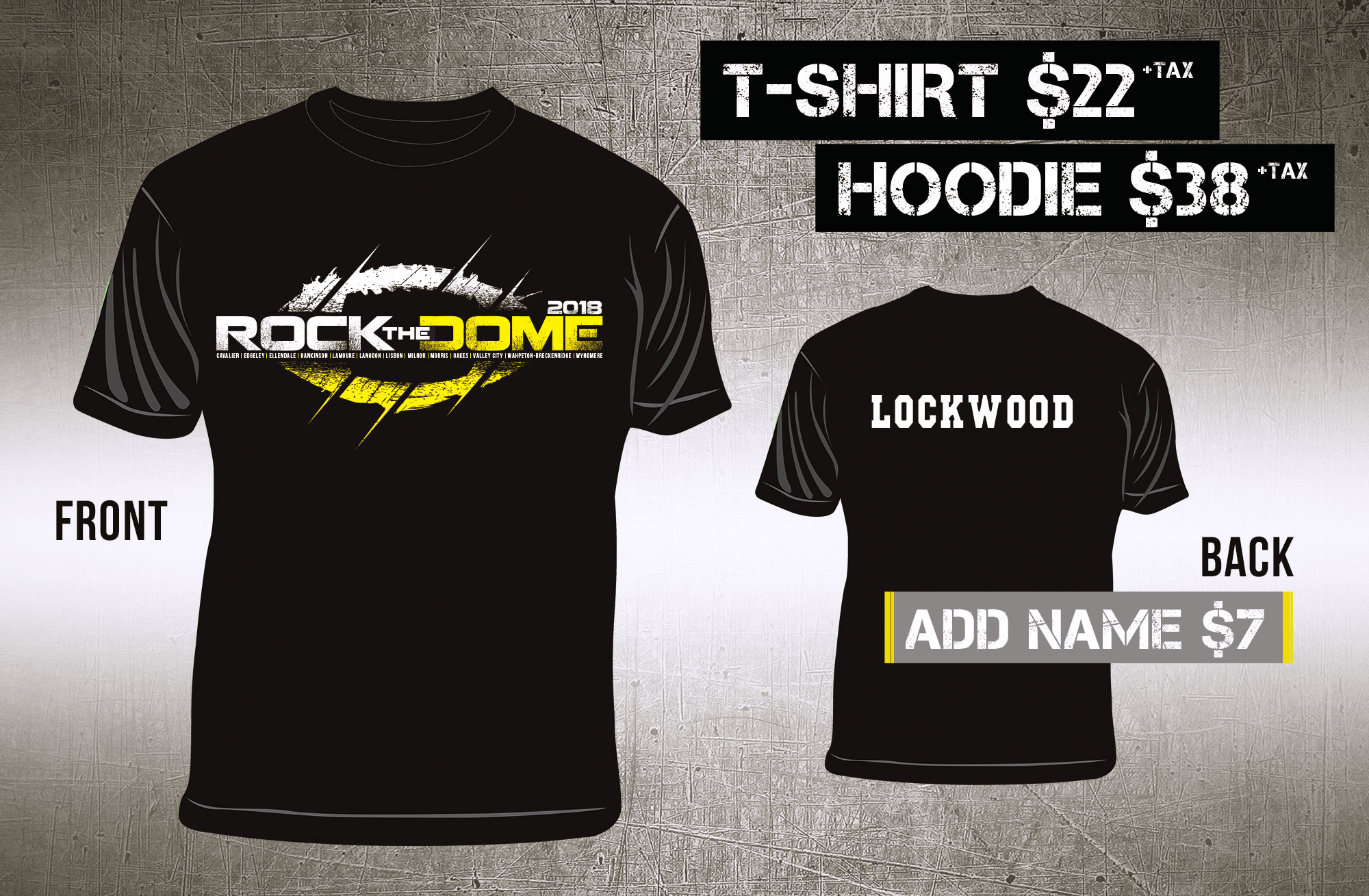 CHECK OUT T-shirt and hoodie PRE-ORDERS right here online!
Ordering your shirt at the event means waiting in line, hoping we have your size AND waiting for us to make your custom shirt.  Bypass that line and ensure your size. Order right now!
We will produce your shirt with a name on the back, and have it waiting for you when you arrive.
PRE-ORDER DEADLINE Make sure to place your apparel pre-order BY THURSDAY 9/27!
TEAM PANO SCHEDULED FOR EVERY TEAM!

Our Team Panoramics are a super cool poster of your kid's team, and just a great way to commemorate the season.
To give every team a chance to step in front of the lights and camera, we have organized a schedule for all teams.
Look below for the current schedule, but always check with your coach for the your team's photo time.
COACHES MUST CONFIRM their photo time calling (218)512-0632 or (218)512-0373.
Team
Photo Time
Game Time
Hankinson
Call to Schedule
game 9-10
Wahpeton- Breckenridge Purple
Call to Schedule
game 9-10
Milnor
Call to Schedule
game 10-11
Oakes
Call to Schedule
game 10-11
Morris, MN Orange
10:00 AM
game 11-12
Edgeley
10:30 AM
game 12-1
Morris, MN White
11:00 AM
game 12-1
Langdon
11:30 AM
game 1-2
Wahpeton- Breckenridge Blue
12:00 PM
game 1-2
Morris, MN Black
1:00 PM
game 2-3
Cavalier
1:30 PM
game 3-4
Wahpeton- Breckenridge Black
2:00 PM
game 3-4
Wyndmere
2:30 PM
game 4-5
Wahpeton- Breckenridge Green
3:00 PM
game 4-5
Valley City Royal
3:30 PM
game 5-6
Ellendale
4:00 PM
game 5-6
Valley City White
4:30 PM
game 6-7
LaMoure
5:00 PM
game 6-7
COACHES MUST CONFIRM their photo time calling (218)512-0632 or (218)512-0373. Thanks!
Make sure to talk to your coach for the official time…
Thanks folks!   Call us with questions and see you on game day! -BOT