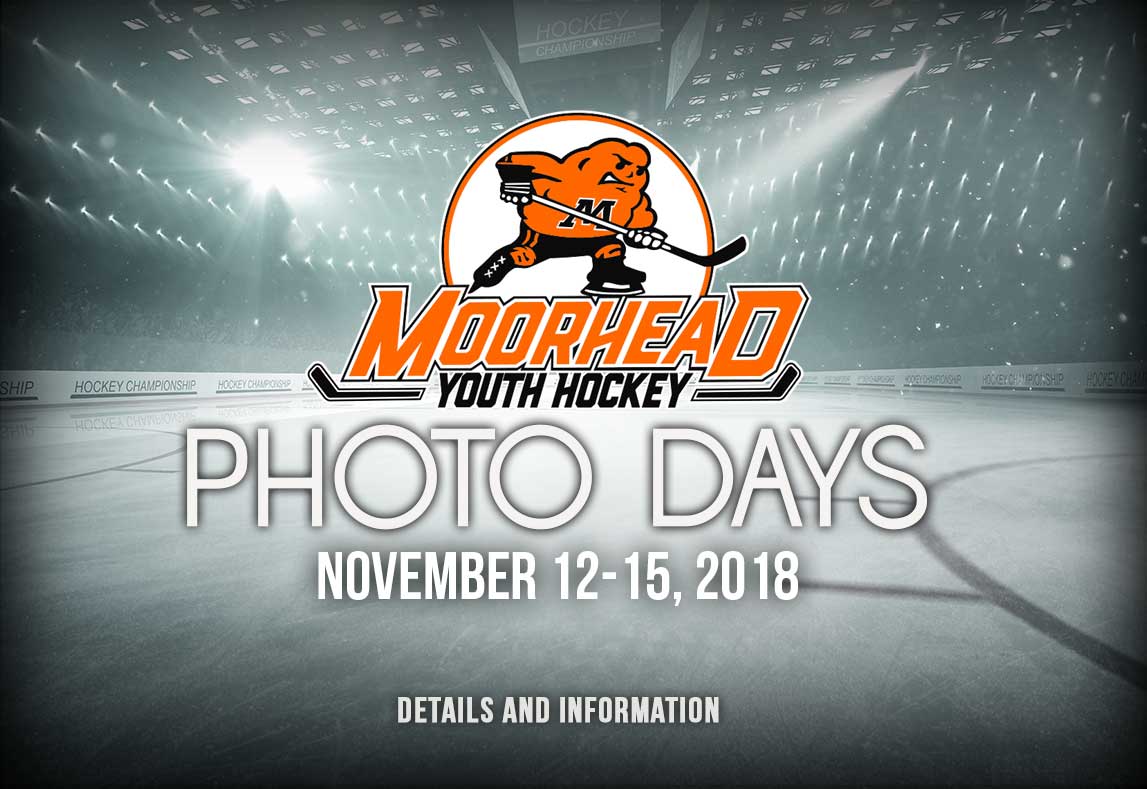 UPDATED… Hockey! Hockey! Hockey!  The season is rolling and that means team photos with BOT…
We will be taking team and individual photos at the newly named Cullen Hockey Center, Monday through Thursday, the 12th to 15th of November.  The photo schedule is final, so check below for details!
Let us know if you have any questions.  See you next week!  -BOT
[tab_container initial_open="1″]
[tab title="Photo Day Schedule"]
2018-19 Moorhead Youth Hockey Photo Days

Nov 12th -Nov 15th at the Cullen Hockey Center
Updated as of 3:40 pm on 11/6
PHOTO TIME
MON
TUES
WED
THURS
4:15 PM
10UA
Mite 1
Rookie 1
SQUIRT 1
4:30 PM
10U B Black
Mite 2
Rookie 2
SQUIRT 2
4:45 PM
10U B Orange
Mite 8
Rookie 3
SQUIRT 3
5:00 PM
OPEN
8U-1 Inhouse
Rookie 4
SQUIRT 5
5:15 PM
12UA
Mite 3
Rookie 9
SQUIRT 6
5:30 PM
12UB
Mite 4
Rookie 10
SQUIRT 7
5:45 PM
Bantam A
Mite 5
Rookie 11
SQUIRT 8
6:00 PM
PW B Orange
OPEN
Rookie 12
15UA
6:15 PM
Bantam C White
8U-2 Inhouse
Rookie 5
SQUIRT C Silver
6:30 PM
10U-1 Inhouse
Mite 6
OPEN
SQUIRT 4
6:45 PM
10U-2 Inhouse
Mite 7
OPEN
SQUIRT C White
7:00 PM
10U-3 Inhouse
PWA
OPEN
OPEN
7:15 PM
10U-4 Inhouse
PWAA
OPEN
SQUIRT B Black
7:30 PM
Bantam B Black
Bantam AA
OPEN
SQUIRT A Orange
7:45 PM
PW B Black
8U-3 Inhouse
Rookie 6
SQUIRT A Black
8:00 PM
PW C White
8U-4 Inhouse
Rookie 7
SQUIRT B Orange
8:15 PM
PW C Silver
OPEN
Rookie 8
OPEN
8:30 PM
OPEN
OPEN
OPEN
OPEN
All Photos by Best of Times Photography.  Please call us with questions at 218-512-0373 or goto https://www.botpix.com
[hr]
[/tab]
[tab title="Schedule by Team"]
2018-19 Moorhead Youth Hockey Photo Days

Nov 12th -Nov 15th at the Cullen Hockey Center
TEAM
PHOTO TIME
10U A
Mon 4:15 PM
10U B Black
Mon 4:30 PM
10U B Orange
Mon 4:45 PM
10U-1 Inhouse
Mon 6:30 PM
10U-2 Inhouse
Mon 6:45 PM
10U-3 Inhouse
Mon 7:00 PM
10U-4 Inhouse
Mon 7:15 PM
12U A
Mon 5:15 PM
12U B
Mon 5:30 PM
15U A
Thu 6:00 PM
8U-1 Inhouse
Tue 5:00 PM
8U-2 Inhouse
Tue 6:15 PM
8U-3 Inhouse
Tue 7:45 PM
8U-4 Inhouse
Tue 8:00 PM
Bantam A
Mon 5:45 PM
Bantam AA
Tue 7:30 PM
Bantam B Black
Mon 7:30 PM
Bantam C White
Mon 6:15 PM
Mite 1
Tue 4:15 PM
Mite 2
Tue 4:30 PM
Mite 3
Tue 5:15 PM
Mite 4
Tue 5:30 PM
Mite 5
Tue 5:45 PM
Mite 6
Tue 6:30 PM
Mite 7
Tue 6:45 PM
Mite 8
Tue 4:45 PM
PW A
Tue 7:00 PM
PW AA
Tue 7:15 PM
PW B Black
Mon 7:45 PM
PW B Orange
Mon 6:00 PM
PW C Silver
Mon 8:15 PM
PW C White
Mon 8:00 PM
Rookie 1
Wed 4:15 PM
Rookie 10
Wed 5:30 PM
Rookie 11
Wed 5:45 PM
Rookie 12
Wed 6:00 PM
Rookie 2
Wed 4:30 PM
Rookie 3
Wed 4:45 PM
Rookie 4
Wed 5:00 PM
Rookie 5
Wed 6:15 PM
Rookie 6
Wed 7:45 PM
Rookie 7
Wed 8:00 PM
Rookie 8
Wed 8:15 PM
Rookie 9
Wed 5:15 PM
SQUIRT 1
Thu 4:15 PM
SQUIRT 2
Thu 4:30 PM
SQUIRT 3
Thu 4:45 PM
SQUIRT 4
Thu 6:30 PM
SQUIRT 5
Thu 5:00 PM
SQUIRT 6
Thu 5:15 PM
SQUIRT 7
Thu 5:30 PM
SQUIRT 8
Thu 5:45 PM
SQUIRT A Black
Thu 7:45 PM
SQUIRT A Orange
Thu 7:30 PM
SQUIRT B Black
Thu 7:15 PM
SQUIRT B Orange
Thu 8:00 PM
SQUIRT C Silver
Thu 6:15 PM
SQUIRT C White
Thu 6:45 PM
All Photos by Best of Times Photography.  Please call us with questions at 218-512-0373 or goto https://www.botpix.com
[hr]
[/tab]
[tab title="Digital Insert"]Although we'd love for every player to attend their scheduled photo time, we know conflicts come up.  To accommodate, we have a few options for you to consider:
First, let us know that your player will not be able to attend and we can list them on the roster as " Not pictured".  And, we can schedule their individual photo on a different photo day or time.
Second, if you are looking for something more, we offer a "Digital Insert" package for a reasonable fee ($50 – includes Package B regularly $36). We can insert your player into the team photo.
The quality is exceptional, but we must know about this special request prior to taking the team photo. Call our studio for more information at 218-512-0373.
[hr][/tab]
[tab title="Place your order!"]
No forms to bring to photo day!
Use your credit or debit card in our secure shopping cart.
If you place your order before your photo day, we'll deliver everything with the rest of your team by default.
Need to order after? Go ahead, and choose to pickup your order here at the studio, or we can ship it right to your doorstep.
When ordering on-line, please place your order 24 hours prior to photo day so we can have your player's paperwork ready.
[button link="https://www.botpix.com/product-category/team-individual-orders/" size="large" color="#f6a800″]Place your order online now![/button][hr]
We accept cash, check, credit or debit card at the photo day shoot.
Please, USE YOUR ORDER ENVELOPE, fill it out, insert payment and send it with your player.  We do spend considerable time and energy making sure that every player gets an envelope.  Thanks!
But if you don't have an envelope, and don't feel comfortable ordering online, you can always download our PRINTABLE PDF version. Paperclip your check to this form on photo day and you'll be all set!
[button link="https://www.botpix.com/wp-content/uploads/2018/10/PRINTABLE-ONLINE-ORDER-FORM-2018.pdf" size="large" color="#f6a800″ window="yes"]Printable Order Form[/button]
[hr][/tab]
[/tab_container]
https://www.botpix.com/wp-content/uploads/2018/11/2018-19-mhd-hockey.jpg
789
1147
Drew
https://www.botpix.com/wp-content/uploads/BOTlogohorz-FINAL.png
Drew
2018-11-04 15:23:32
2018-11-16 11:18:54
Moorhead Youth Hockey – 2018 Photo Days