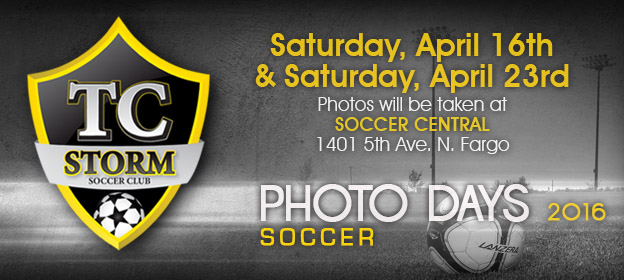 UPDATE: ALL PHOTOS DELIVERED! Each team's photos will be available for pickup at the concession stand on Saturday. Talk to your coach for more information. Also, if there are any questions, comments, or problems, please contact us here at Best of Times (701-478-6103)!
TC Storm Spring Soccer Photo Days are here!  Photos start at 8am Saturday April 16th and Saturday April 23rd at Soccer Central, the indoor soccer facility in North Fargo. We will have the most current schedule posted below, but if you have any questions please let us know.
Just a couple things before I let you go… Make sure to be 10 minutes early for your photo time, don't forget to wear your complete uniform and bring your ball. BUT, DO NOT WEAR MUDDY CLEATS INTO SOCCER CENTRAL! See you guys on Saturday! -BOT
[tab_container initial_open="1″]
[tab title="Schedule"]
Spring Soccer Photo Schedule as of 4-15-16 [button link="https://www.botpix.com/wp-content/uploads/2016/04/2016-TC-Storm-Photo-Schedule-as-of-4-15.pdf" color="#1994E6″ text="light" window="true"]Download[/button]
[/tab]
[tab title="Order Online"]
No forms to bring to photo day!
Use your credit or debit card in our secure shopping cart.
If you place your order before your Photo Day, we'll deliver everything with the rest of your team by default.
Need to order after? Go ahead, and choose to pickup your order here at the studio, or we can ship it right to your doorstep.
[button link="https://www.botpix.com/product-category/team-individual-orders/" color="#1994E6″ text="light"]Place your order online now![/button]
[/tab]
[tab title="Order Form"]
Of course, if you don't have a form and don't feel comfortable ordering online, you can always download our printable PDF version. Paperclip your check to this form on photo day and you'll be all set!
[button link="https://www.botpix.com/wp-content/uploads/2016/04/WEB-ORDER-FORM-20160411.pdf" color="#1994E6″ text="light" window="true"]Printable Order Form[/button]
[/tab]
[/tab_container]
https://www.botpix.com/wp-content/uploads/2016/04/2016-TC-STORM-SOCCER.jpg
280
624
Drew
https://www.botpix.com/wp-content/uploads/BOTlogohorz-FINAL.png
Drew
2016-04-12 11:33:40
2020-06-12 18:44:35
TC Storm Spring Soccer Photo Days 2016